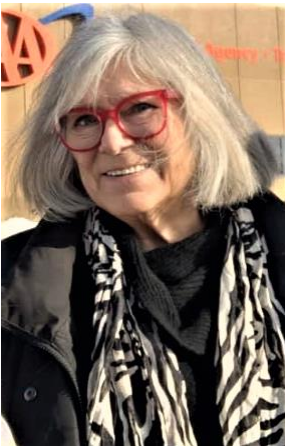 Vicki Fagre-Stroetz resides in Region V and is an owner/breeder of Afghan Hounds She is a familiar face in the Region and has been involved with the local Minnesota clubs (MCA, GTCWC, and GUNC) for nearly 20 years. She frequently travels outside of Minnesota to compete, so she is known not only in Region V, but in many of the ASFA regions.
An active member in several coursing clubs, Vicki is also currently the co-President of the Minnesota Coursing Association (MCA). She has held numerous positions over the years, including MCA Secretary, FTS, FTC, and co-Chair of the Region V Invitational. Vicki is always proactive and looking for ways to improve trials and include fellow members in the process. Vicki attends the ACoD each year and is conscientious in bringing the experience and information back to share with the MCA membership and the local lure coursing community. She is always gathering ideas in her travels and working to institute those that apply toward improving the local ASFA scene.
In 2015, when Vicki saw the need for judges in the Region, she started worked on getting her judges license. She is known to be fair and honest, and the safety of the hounds is foremost. We look forward to Vicki becoming a fully licensed judge and her continued support within Region V and beyond for ASFA field trials.
Most recently, Vicki realized that with the loss of our Field Advisory News there was a need for a new way to keep the ASFA community informed and up to date on ASFA news. She volunteered to fill that need by editing and producing the ASFA Communiqué. It is no small feat to produce the Communiqué. The production of this online magazine takes numerous hours of not only constructing the document, but also finding and editing content. This ensures that it is a publication that is not only something that people want to read, but also that it is of high quality and one that we can all be proud to call ASFA's. The ASFA community has indeed come to value and look forward to this online magazine. It is not only informative and timely, but also done with a level of professionalism that we all appreciate. Vicki does a tremendous job keeping us informed about important ASFA issues as well providing an outlet for beautiful pictures of our dogs.
With an eye to the future, Vicki has also been involved in developing the new Lure Coursing Instinct (LCI) program. As with any new program, there are things that work well, and other details that need to be identified or modified. Vicki is working with the LCI committee to help this program fit seamlessly into our trials.
As with all of us, it is about the dogs. Vicki is known for her dedication to her beautiful Afghan Hounds. She has had 11 Afghan Hounds in the ASFA Top 20 over the past 16 years, some of whom she has bred or co- bred. In 2014, her Afghan "Rory" was the #1 ASFA Afghan Hound. She has had multiple BIF winners, II BOB winners, an AHCA National Specialty Lure Coursing BOB, AHCA National Specialty Lure Coursing BIE, and ASFA Region V BIF. In addition, Vicki's Afghans have also earned championship titles in the show ring, AKC Lure Coursing, NOTRA, and LGRA.