Breed of the Month
Scottish Deerhound



Pics by Big Paw Prints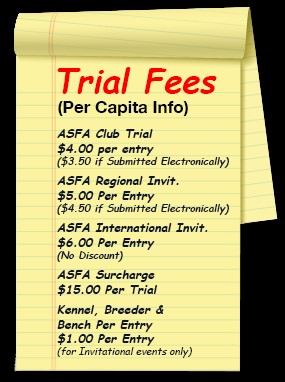 Click on your region to get more information about events and clubs in your area.
August 2017 Update to on Old Records Program Status


See the News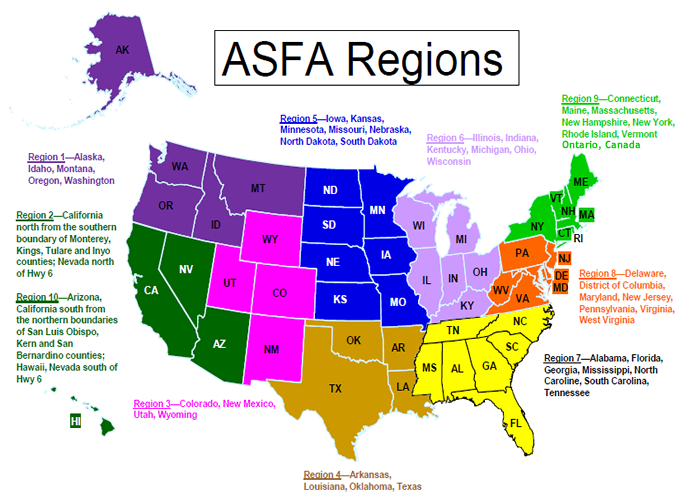 Click on your region to get more information about events and clubs in your area.
The American Sighthound Field Association was founded in 1972. Since then the ASFA has been promoting the sport of lure coursing throughout the US. We are proud to be the first nationally known association for lure coursing. In the sport of lure coursing we do not chase live game, we use a plastic bag on a string powered by motors. The hounds love to "hunt" the plastic bag. You need only to see the speed, enthusiasm, ability, follow and endurance expressed by these wonderful sleek hounds to become hooked on the sport of lure coursing. ASFA sponsored lure coursing trials are held on most weekends throughout the year, usually in multiple locations arounds the country. You can find clubs in your area by clicking on your state on the map on this page. A schedule of events can be found by clicking on the "Field Trials" button above. ASFA field trials can offer you, your family and your sighthound a day of great fun. Try ASFA. You can be assured you will not regret learning more about lure coursing. Thank you for exploring our organization and web site.

All references on this website to the CKC mean the

Canadian Kennel Club

, unless expressly stated otherwise.
The Sport of Lure
Coursing Explained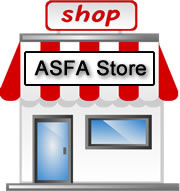 Notice of ASFA Records Program Revision $15 Surcharge per Trial

ASFA has been dealing with an outdated records program for a number of years. We have had numerous patches done, but it has reached the point of obsolescence. The 2015 Annual Convention of Delegates passed a motion to implement a surcharge of $15.00 per trial to help fund a total revision. The surcharge was to go into effect at the time we entered a contract for the revision which was done in April 2017.

The surcharge will go into effect for all trials on or after July 1, 2017. The ASFA Treasurer will keep separate track of the surcharge to match against the costs of the revision.

We appreciate the support of the clubs in helping ASFA make this long-needed revision.

Gary M. Roush, ASFA CFO

Urgent Notice:


Lori has been frantically re-entering trial information to rebuild the database. We believe that we are almost there. Please, if you see an error, send an e-mail to records@asfa.org. Lori will begin answering the e-mails she has received on 08/09/17. She knows the Titles are not complete, and continue to be a work in progress. She still has several trials to enter and is hammering those out. As soon as she can get a good dent in those, she will submit another report. Thank you for your patience though this very stressful time!

2017 ASFA II premium is posted!!!! Read it today and mark those deadlines on your calendars! Find it under Special Events, or in the Trial Schedule listing for October 21st! Start collecting your 20 points for eligibility!!!  Don't miss out.

ASFA Wearables and More!