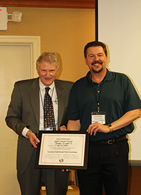 Tom's contributions to the ASFA are numerous, but some of the more prominent accomplishments and contributions are as follows:
He is a past ASFA board member and Regional Director.
He has served on numerous ASFA committees including the Judges Committee.
He has been an ASFA judge since 1985.
He has performed all Field Committee duties and has held major positions of responsibility at many of the largest ASFA trials:

FTC – including for the II and Regional Invitationals.
FTS – including for the II and Regional Invitationals.
Tom is one of our top lure operators:

He was Lure Operator of the Year in 2009.
He has been a lure operator at several IIs, including head lure operator for the 2013 II.
He always shows top respect for the health and safety of the dogs and he is ethical and fair.
Tom teaches and trains people about all aspects of the sport.
Tom is a person that lives by the rules, and he readily supports our sport with impartial attention to the rules and is not afraid to tell the ASFA when he thinks something is amiss.
Tom is one of the topmost passionate supporters and promoters of the ASFA.
He works tirelessly at every trial he goes to whether it is his club or not. He hasn't had a dog of his own to run in many years and he is still out there, working hard.
Tom has been the lead for running ASFA trials at the Saluki National for many years.
Bottom line, Tom Cigolle, Jr. exemplifies what Gary Forrester would likely have found to be of great importance in the continuation of the sport he so loved. Tom deserves to be recognized for all he has given (and continues to give) to the sport of Lure Coursing. Tom has a genuine heart for promoting our sport and he is in the sport of lure coursing for all the right reasons.