Jill Bryson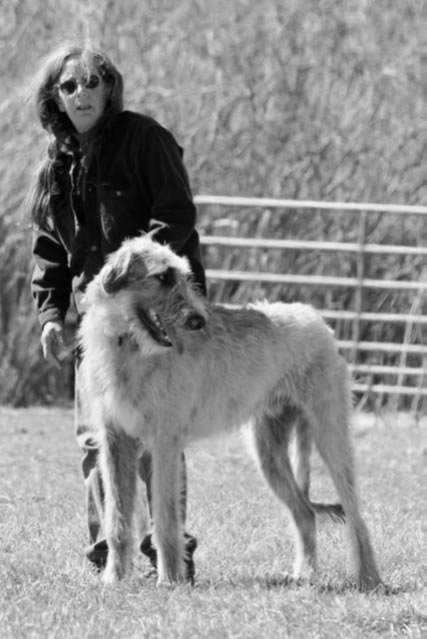 Jill Byson moved to Hailey Idaho with her husband, Kevin Bryson, and first Irish wolfhound puppy in 1972. With time, more and more Irish Wolfhounds joined the family and as Jill often said, "Although we didn't plan it, we went to the dogs!"
Jill and Kevin had a well-respected action photography business spending long weekends capturing dog events on camera. Jill Bryson dedicated her life to dogs as she soon completed a degree to become a licensed canine rehabilitation technician while she was a veterinary technician. She always said she had the best job in the world as a veterinary technician for over forty years. Jill
shared this knowledge with the lure coursing community.
Jill was involved in the American Sighthound Field Association lure coursing since the late 1970s. She and Kevin were lost in California and saw a sign that said "coursing" and decided to check it out. Years later, Jill and Kevin were two of six individuals who were the driving force behind the establishment of the Southern Idaho Sighthound Field Association (SISFA). They bought property for the club to hold trials in Emmett, Idaho. She was a tireless promoter of lure coursing in the West and was also one of the founding members of the Utah Sighthounds Racing and Coursing Club (USRCC) north of Salt Lake.
Jill regularly drove 14 hours to Colorado to help with Grand Nationals. She made as many International Invitationals and specialties as she could work into her schedule. Driving to the west coast, Midwest, and wherever she had friends, Jill entered dogs. In seeking input for this nomination, we have heard many memorable, funny stories from the greater ASFA community. Jill brought the fun.
Jill was the ultimate volunteer and went to work from the moment she arrived at these events until the field was cleaned up. She sewed everything from racing blankets to rehabilitation aids and shared her insights with the community. Jill would do anything needed but most of all she put the hounds first. Every single race, she wished for safety for the hounds.
The Grand National was of particular importance to Jill mostly because of the emphasis on fun. She believed that this community of dog enthusiasts would be best served with some good laughter and camaraderie. She helped introduce lure coursing to at least two generations of new coursers and was always ready to share her experience and knowledge and to mentor huntmasters and other field committee positions. There have been few that brought as much tolerance and acceptance to all who participated in Lure Coursing events as Jill.
Jill was the huntmaster of choice and mentored many of the best around today. She also did the work to become an ASFA judge mostly so she could relieve judges who needed a break and so she could make sure her home club always had a 2nd judge when needed.
Jill was awarded the Gary Forrester Award by the American Sighthound Field Association in 2014. The purpose of the Gary Forrester Achievement Award is to recognize individuals who emulate Gary's commitment to lure coursing. Jill Bryson's contributions made her eminently worthy of this recognition.
Jill was actively involved with her breed, Irish Wolfhounds. She was a member of the Irish Wolfhound Club of America (IWCA), the Rocky Mountain Irish Wolfhound Association (RMIWA), the Irish Wolfhound Association West Coast (IWAWC), and the Northern California Irish Wolfhound Association (NCIWA). Her passion was to see the hounds run. After years of helping others to run their dogs and attempting to finish a FCh on her wolfhounds, Jill's dreams were realized with her wonderful last wolfhound, Woopie, who was not only a champion and group placing wolfhound, but a phenomenal runner, even obtaining an LCM and many important wins all over the country - just dues for someone who spent her whole life with wolfhounds that ran for a while but never finished field titles.
Jill's outgoing personality, infectious good nature, and willingness to help out in any situation made her a welcome addition to a trial and an outstanding ambassador for the sport of lure coursing. We lost Jill this past December of 2019. She was truly a unique individual and will be missed.
Judy Lange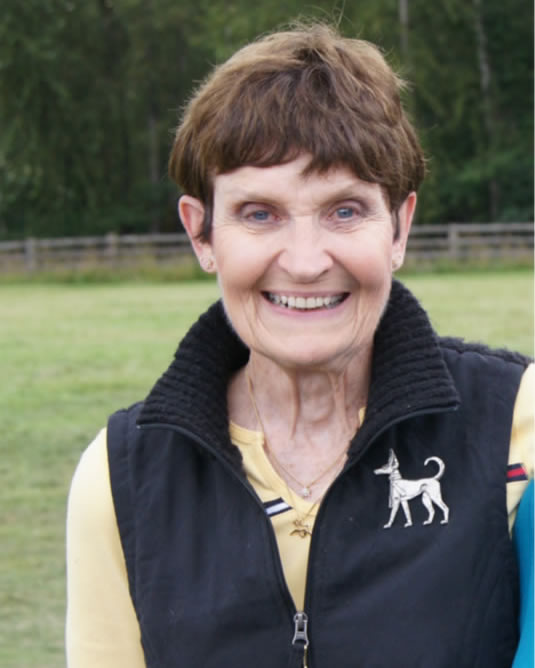 Judy Lange, Amun Basenjis, Kent Washington, passed away on June 4th, 2019, just days after EBC's May ASFA trial where she could be found helping new exhibitors fumbling with slip leads. Judy's sudden passing was a shock to many of us – but the impression she made on newcomers was no surprise at all, as that was her signature move, to greet new people and encourage them to be active with their hounds.
As evidenced by dozens of Facebook posts last June, many Pacific Northwest coursing enthusiasts and Basenji owners under the age of 60 note that the first person they remember meeting was Judy – she would admire their new puppy, invite them to club events, and keep them involved by "twisting their arms" in her encouraging way to help with the committee.
From the late '90s, Judy was a constant advocate for the sport of Lure Coursing, and for ASFA in particular as it was "a more grass roots, by the people type of organization" she told us, and made sure we considered rule changes each year before the ACoD. She was EBC's Lure Trial Secretary for many years, the overall Lure Coordinator for many years, and I'd venture there was hardly an EBC lure trial she missed, always a resource to the chair as a field clerk or head inspector or training the new hunt master.
Judy was a founding member of the Twin Peaks Ibizan club, and I'm certain was instrumental to establishing and sustaining their lure coursing program. She also served on the Basenji Club of America's lure committee for several years, appreciated for her collaboration and problem-solving skills. Her most tangible legacy may be her behind-the-scenes contribution to the lasting cohesiveness of Region 1 – as explained by Beth Levine, Serendipity Whippets:
Many of you may not even realize it, but Judy's efforts as regional director in the early years of this century were directly responsible for the Region 1 website and this ASFA Region 1 Facebook group. I know most people only use the calendar page on the website, but if you visit the about page (https://asfaregion1.com/about/), you'll find this paragraph describing the website's genesis: "The Region 1 website was launched in early 2003 as a joint effort between Judy Lange, at the time the newly elected Region 1 director, and myself, to promote better communication between the Region 1 clubs and provide a centralized clearinghouse for electronic premium lists for local trials."
I will never forget Judy or her steady guidance and leadership early in my involvement in our sport and our region and through the many years since. I know so many others were blessed by her mentorship, friendship, and support over the years, and her legacy will surely endure." It's an honor to nominate Judy, for her contributions big and small to the growth, strength, and
collaboration within the lure coursing community in the Pacific Northwest over the last 30 years.