The first recorded Afghan's in the West was in the latter part of the 19th century brought back by British officers and others from the Indian-Afghanistan border wars.
There was little interest in the breed until 1907 when Captain John Barff brought from Persia via India his dog "Zardin" in 1925. During WWI the breed literally disappeared in the Western world.
Today's Afghan Hounds date to 1920 when Maj. & Mrs. G. Bell Murray and Miss Jean C. Manson brought a group of dogs from Baluchistan, formerly an independent state south of Afghanistan and now a part of Pakistan, to Scotland. Most of these dogs were of the "desert" type--racy, fine headed and light in coat.
Mrs. Mary Amps shipped to England the first of a group of Afghan Hounds from the kennel she maintained in Kabul. These were mainly the "mountain" type--sturdily built, relatively short-coupled and more or less full-coated.. From these imports came a most successful show dog and sire, English Ch. Sirdar of Ghazni.
Though during the 1920s a number of "Bell-Murray" Afghans were exported to the United States and registered in the AKC Stud Book beginning in 1926, the real start of the breed in this country dates to the first "Ghazni" imports in 1931.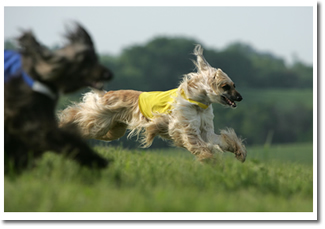 Photographer: Pepper Nix